---
BOSTON - DORCHESTER - NO FEE -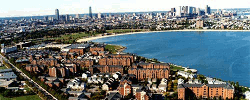 Boston's Premier Waterfront Apartment Community.

The best kept secret in Boston is at your fingertips. Enjoy the comforts and convenience of city living without the expense of actually living downtown. Harbor Point's tree lined landscape provides a quiet atmosphere and the HarborWalk takes you right along Boston's waterfront with access to the beach and community parks. Check out our website for Real Time Availability.

AMENITIES & FEATURES

Heat, hot water & a/c included with most apartment homes
Steps to JFK T
Gated community with free parking
Renovated fitness center & clubhouse
Two swimming pools & tennis courts
Grilling area & volleyball court
LIFESTYLE

Steps to Hubway & Boston HarborWalk
Shopping at SoWa Open Market
Relax and cool off on Carson or Malibu Beaches
Dine at Sea Ports newest restaurants
Concerts at Blue Hills Bank Pavilion
Appreciating the location of the waterfront
Ideal location for traveling and commuting
Floorplans:
1 bedrooms: $1885 - $2100 per month.
2 bedrooms 1 bathrooms: $2270 - $2380 per month.
2 bedrooms 2 bathrooms: $2450 - $2700 per month.
2 bedroom Townhouses: $2757 - $3300 per month.
3 bedroom: from $3200 -3800 per month.


We offer flexible lease terms, including short-term furnished units. Most of our rents include heat, hot water, and A/C.
Hours: Monday, Tuesday, Thursday 10-6, Wednesday 9-7, Friday 9-5


hp-1305003



Map Link: http://us.rd.yahoo.com/maps/home/input/*-http://maps.yahoo.com/py/maps.py?BFcat=&Pyt=&addr=+28+Oyster Bay Road&csz=+02124&

Click to learn more, Harbor Point on the Bay or call 617-825-2033 - harborpointonthebay@cjmanagement.com Look forward to seeing you soon.

---
BOSTON - DORCHESTER - NO FEE -
Live by the sea at Peninsula Apartments! You'll love our luxury waterside apartment homes with fantastic views. Peninsula Apartments is located near the John F. Kennedy Library, the University of Massachusetts and is walking distance to the UMASS/Redline T stop.

Peninsula Apartments features many apartments with water and city views, a combination of studio, one bedroom, one bedroom w/den, two bedroom, two bedroom w/den and three bedroom apartment homes.


Amenities at include a state-of-the-art fitness center, with the latest Precor and Nautilus equipment, community room, and electronic media lounge. For outside fun, Peninsula Apartments is adjacent to HarborWalk, a 38-mile jog and bike trail that leads into Boston and beyond, or walk to local beaches or rent your favorite seacraft at the UMASS boathouse.
Peninsula Apartments has easy access to Downtown Boston and major metropolitan highways including Routes 93 (the southeast expressway), I-90 (Mass Turnpike), I-95 and Route 128.


APARTMENT HOME FEATURES
Peninsula I:

Designer kitchens with maple cabinets and granite breakfast bars
Walk in closets and floor-to-ceiling windows
Controlled access entry and intercoms
Individually controlled heating & air conditioning
Ceramic tile bathroom
Bike Storage for both buildings

Peninsula II:

washer and dryer located in every apartment
Some balconies and private street access
Full granite breakfast bars, stainless steel appliances and cherry cabinets.
Spacious floor plans

*Certain floor plans may have different features.

COMMUNITY FEATURES & AMENITIES:

Fitness Center

Community room with wireless internet and coffee bar

Laundry room conveniently located on each floor in Peninsula I

Hi-tech media lounge

Swimming pool and landscaped sundeck and grill

FLOORPLANS:
Studios $1760-$1950
1 bedroom $1980-$2225
2 bedroom $2800-$2975





tpcp-1557483



Map Link: http://maps.google.com/maps?f=&hl=&q=+401+Mount Vernon Street+02124&

Peninsula Apartments - (844) 329-7992, Pen.Bostonapartments.NationalDevelopment@aptleasing.info

---
BOSTON - DORCHESTER - FULL FEE - 3 BEDROOM - 1 BATH - nice 3 bedroom apartment in Dorchester, Has large windows and close to train and bus transportation. This apartment has 6 rooms and great wood floors through out. The apartment is close to shopping by fields corner. NO PETS - Available: Now. $1,750 crg-150117112


Centre Realty Group - (617) 332-0077 - Info@CentreRealtyGroup.com

---
BOSTON - DORCHESTER - 4 BEDROOM - 1 BATH - 4 Bedroom 1 Bath apartment available 12/15 or January 1st. walking distance to Upham's Corner commuter rail and to red line. Newly renovated. 1st floor apartment w/back porch. Hardwood floors throughout plus ceramic tile in kitchen and bathroom. Granite countertops. Pantry. $2,250 crg-170991007
Centre Realty Group - (617) 332-0077 - Info@CentreRealtyGroup.com

---
BOSTON - DORCHESTER - NO FEE - 4 BEDROOM - 1.5 BATH - ***Please text or call Timmy at 857-205-8528 for more info!! Thanks! Cat OK - Available: Now. $3,000 caa-172777286
Comm. Ave. Associates - (617) 254-APTS - email: mark@commaveassociates.com

---
BOSTON - DORCHESTER - 4 BEDROOM - 1.5 BATH - ***Please text or call Timmy at 857-205-8528 for more info!! Thanks! Available: Now. $3,300 caa-172796100


Comm. Ave. Associates - (617) 254-APTS - email: mark@commaveassociates.com

---
BOSTON - DORCHESTER - 3 BEDROOM - 1 BATH - - beautiful renovated Dorchester 3 BD with stainless steel appliances and granite countertops - pets negotiable - central air - laundry in the basement Pet Negotiable - $2,550 lmr-174347024



Leopold & McMasters Realty - 617-699-8287 - briangrahamlmc@gmail.com

---
BOSTON - DORCHESTER - 3 BEDROOM - 1 BATH - Newly Renovated! Modernized apartment. Freshly painted, granite counter tops, stainless steel appliances, brand new cabinets. Laundry in basement of the unit. 2 parking spots. Gas heating. Near public transportation. NO PETS - 2 parking Off street Available: Now. $2,300 crg-170077201


Centre Realty Group - (617) 332-0077 - Info@CentreRealtyGroup.com

---
BOSTON - DORCHESTER - NO FEE - Apartments available now and in near future! Clost to all major transport, great view, and bright sunny layouts. New renvoated apartments! Near to all colleges and universities, Long term, unfurnished studio, ones and two bedroom apartments prices from $900-$1800 acrcl-370406
www.cityleases.com 201-845-7300 - email: bostonapartments@sublet.com

---
BOSTON - DORCHESTER - 2 BEDROOM - 1 BATH - * QUIET MEETING HOUSE HILL NEIGHBORHOOD * Full 2BR  Walk to FIELDS CORNER MBTA stop and bus lines Secure Locale WITH GREAT NEIGHBORS *FREE on-site Parking INCLUDED IN RENT ALONG WITH HEAT AND HOT WATER! *COMPLETELY RENOVATED and UPDATED * HARDWOOD FLOORS, SOLID WOOD CABINETS, NEW CARPET, TILE BATH, FRESH PAINT WITH NEW LIGHT FIXTURES AND CABLE READY. • THOMASVILLE® WOOD KITCHEN CABINETS Off street $1,650 crg-147635117


Centre Realty Group - (617) 332-0077 - Info@CentreRealtyGroup.com

---
BOSTON - DORCHESTER - 2 BEDROOM - 1 BATH - Brand New Renovation for 2016. Great 2 Bedroom 1 Bath or 3 Bedroom Split. New Everything and Close to Public Transportation, Shops, and Restaurants Featuring Granite/Stainless Steel Spacious Kitchen, Designer Bathroom, Recessed Lighting, Gas Forced Hot Air System, and Natural Hardwood Floors. Laundry - Cat OK - On street Available: Now. $1,650 crg-171212296


Centre Realty Group - (617) 332-0077 - Info@CentreRealtyGroup.com

---
BOSTON - DORCHESTER - 3 BEDROOM - 1 BATH - For more information, go to sublet.com/rent.asp and enter listing id 2857359 or email 2857359@rentalresource.com. Under full renovation, this top-floor 3 bedroom / 1 bathroom unit is located in the highly sought after Polish Triangle. This apartment will feature large bedrooms and nice size living area. Modern kitchen with custom cabinets, granite countertops and stainless steel appliances, in-unit laundry, and new bathroom. Nestled on a tree lined street that provides plenty of on-street parking, and a quiet feeling of getting out of the city. Located steps to Andrew Square and JFK T stations, multiple bus lines, South Bay Mall, and 93 makes this location a must see! - $2,450 acrts-175214651
www.sublet.com - 201-845-7300 - email: bostonapartments@sublet.com

---
BOSTON - DORCHESTER - 2 BEDROOM - 1 BATH - Brand New Renovation for 2016. Great 2 Bedroom 1 Bath or 3 Bedroom Split. New Everything and Close to Public Transportation, Shops, and Restaurants Featuring Granite/Stainless Steel Spacious Kitchen, Designer Bathroom, Recessed Lighting, Gas Forced Hot Air System, and Natural Hardwood Floors. Laundry - Cat OK - On street Available: Now. $1,650 crg-171212295


Centre Realty Group - (617) 332-0077 - Info@CentreRealtyGroup.com

---
BOSTON - DORCHESTER - 3 BEDROOM - 2 BATH - ***Please text or call Timmy at 857-205-8528 for more info!! Thanks! Cat OK - Available: Now. $2,300 caa-172796101


Comm. Ave. Associates - (617) 254-APTS - email: mark@commaveassociates.com

---
BOSTON - DORCHESTER - FEE NEGOTIABLE - 3 BEDROOM - 1 BATH - Pet Friendly - Off street $2,200 crg-174907502
Centre Realty Group - (617) 332-0077 - Info@CentreRealtyGroup.com

---
BOSTON - DORCHESTER - FULL FEE - 3 BEDROOM - 2 BATH - Conveniently located in Dorchester on Devon St. Close to Bus routes(14, 19, 23, 28, 44)/Orange line access, quick commute to Downtown Boston. Bright & breezy 2nd floor unit with New Kitchen & Bath, laundry hook-ups, beautiful hardwood floors, enclosed front porch & back deck! Street parking, permit not required. Available June 1st. Cat OK - 1 parking On street Available: Now. $2,100 crg-172970490


Centre Realty Group - (617) 332-0077 - Info@CentreRealtyGroup.com

---
BOSTON - DORCHESTER - 2 BEDROOM - Hardwood floors, lots of windows, remodeled this spring! Marble kitchen and bathroom countertops. Plenty of on street parking. Basement Coin Laundry - Pet Friendly - Available: Now. $2,100 crg-170907499


Centre Realty Group - (617) 332-0077 - Info@CentreRealtyGroup.com

---
BOSTON - DORCHESTER - 4 BEDROOM - 1 BATH - Fully renovated 4 bedroom apartment. New rear deck. Fully tiled bathroom. Beautiful tiled kitchen with solid granite counters, Solid oak hardwood cabinets and all black appliances. All new windows. Solid gleaming Brazilian Red Cherry hardwood flooring throughout, electric stove, large closet space, walk in closet in master. Refrigerator included. Top floor unit. Off street parking. This is a model unit. Phenomenal location, walk to public transportation. Tenant to pay utilities. Washer/Dryer hookup in unit optional ($50/mo), Laundry Hookup in Unit - Off street Available: Now. $2,400 crg-158791861


Centre Realty Group - (617) 332-0077 - Info@CentreRealtyGroup.com

---
BOSTON - DORCHESTER - 4 BEDROOM - 1 BATH - Completely remodeled 4 bedroom unit in Dorchester. Available immediately. Hardwood floors, stainless steel appliances. Gas heat, coin op laundry in building. 2 designated parking spaces included. Close to all amenities. Close to T, shops, bars and restaurants. Coin-Op Laundry Room - NO PETS - 2 parking Off street Available: Now. $2,800 crg-172893111


Centre Realty Group - (617) 332-0077 - Info@CentreRealtyGroup.com

---
BOSTON - DORCHESTER - 3 BEDROOM - 1 BATH - Fully renovated 3 bedroom apartment. Beautiful tiled kitchen with solid granite counters, solid oak hardwood cabinets and all stainless steel appliances. Refrigerator included. Gas cooking. New high efficiency gas heating system. Beautifully tiled bathroom. Gleaming hardwood flooring throughout, large closet space, walk in closet in master. Second floor unit. Off street parking. Lead certified with certificate in hand. This is a model unit. Phenomenal location, walk to public transportation and shopping. Off street parking. Tenant to pay all utilities. Laundry room in building. Laundry - Off street Available: Now. $2,100 crg-173660157


Centre Realty Group - (617) 332-0077 - Info@CentreRealtyGroup.com

---
BOSTON - DORCHESTER - NO FEE - 5 BEDROOM - 1 BATH - ***This spacious 5 beds has an updated kitchen and a porch. Please text or call Timmy at 857-205-8528 for more info!! Thanks! Cat OK - Available: Now. $3,000 caa-172777287
Comm. Ave. Associates - (617) 254-APTS - email: mark@commaveassociates.com

---
BOSTON - DORCHESTER - 3 BEDROOM - 1 BATH - For more information, go to sublet.com/rent.asp and enter listing id 2210893 or email 2210893@rentalresource.com. ****************************************** Luxury Furnished Apartment ***** Convenient South End Alternative ***** Luxury at a Value Price!! ******************************************Redline T / I93 access / Easy Parking- 2nd Floor Apartment w/Queen Beds in each bedroom- Each private room with bed, dresser and desk- Exceptionally Clean, Clean, Clean!- Strictly a non-smoking Apartment- Tall ceilings, large windows & lots of light- Gas Stove, Dishwasher & Microwave- TV w/DVD & Entertainment System- Utilities & Wireless Internet & DirecTv included!- Easy parking and walk to the Redline T- Next to Restaurant 224 & BarClose to BU, UMassBoston, Northeastern, and easy parking!*** A REAL home away from home! *** - $1,250 acrts-175214662
www.sublet.com - 201-845-7300 - email: bostonapartments@sublet.com

---
BOSTON - DORCHESTER - NO FEE - 5 BEDROOM - 1 BATH - 5 Bed near JFK T Stop, No Broker Fee, Available 9/1/14 Available: Now. $3,200 caa2-159843122


BrightonApts.com - (617) 783-1400 - mark@commaveassociates.com