Public Transportation
---
Subway

The MBTA subway operates from 5:15 am to 12:30 am Monday - Saturday and Sunday from 6 am to 12:30 am. The fare is $2.00 per ride and is payable with a token which is sold inside each subway station. Children 11 and under are FREE when accompanied by a paying adult. The MBTA Visitor Passport is also available as a ticket good for 1 or 3 or 7 days unlimited use. It can be purchased at the Back Bay Station's Amtrak window.

WizeGuides.com Combines the MBTA system layout with a map that combines information you need including streets, subway lines and stops, businesses, attractions, schools, hospitals, and more and their relation to the MBTA. Print out map pages and go!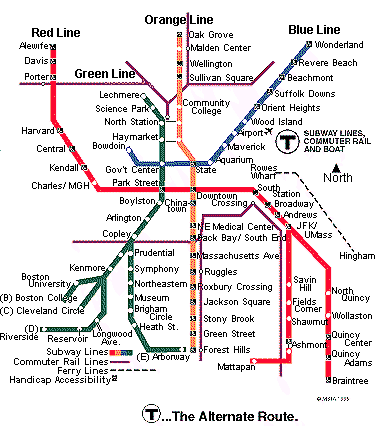 Bus

MBTA bus fare within Boston is $1.50 payable in exact change upon boarding. Express bus fares to suburban areas start at $3.50 and increase by distance traveled.

Commuter Rail
The Commuter Rail reaches the outlying cities surronding Boston. They include: Fitchburg, Lowell, Haverhill, Newburyport, Rockport, Worcester, Franklin, Lakeville, Kingston, Plymouth, Scituate and Providence Rhode Island.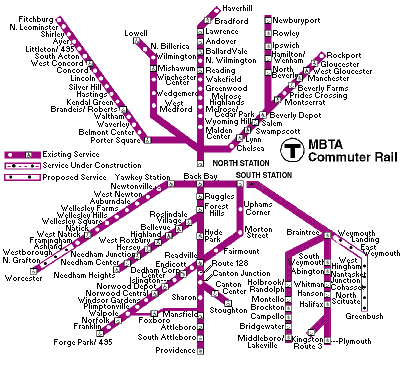 Commuter Boat Service
The Commuter Boat Service services the inner harbor of Boston to the South Shore. It is not only a wonderful way to commute, but an economical and fun way to see Boston by boat.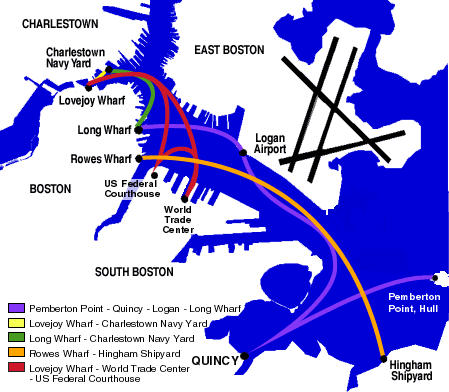 Taxi
The fare is calculated by distance on a meter, which is visible to passengers. The fare starts at $1.50 for the first 1/4 mile and increases by 20 cents at each 1/8th of a mile. Taxis can be hailed on the street or called by phone.

The Ride
THE RIDE is the T's paratransit program service to 62 cities and towns. They provide door-to door transportation to eligible people who cannot use general public transportation at all or some of the time, because of a physical, cognitive or mental disability.
THE RIDE is operated in compliance with the federal Americans with Disabilities Act (ADA) and is a shared-ride service, which means you are traveling with other people.
Only registered "THE RIDE" customers may take advantage of the service.

Parking Regulations
On-street parking at metered spaces require one 25 cent coin per 15 minutes. The one or two hour posted limits are strictly enforced. Additional posted restrictions are applied during rush hour. Off-street parking is available in area garages and some businesses validate parking receipts at time of purchase. Valet parking services are available at many of Boston's restaurants.

Logan Airport
Logan International Airport is Massachusetts' largest Airport. Public transportation to it is available by the MBTA, taxi, limousine service, and by boat. Private helicopter service is also be available through several private companies.

Worcester Regional Airport
Owned and operated by the Massachusetts Port Authority, the Worcester Regional Airport offers major airline service.

Website: http://www.flyworcester.com

Telehone: (508) 799-1741. (888) FLY-WORC

Click Here
for other
Massachusetts Airports